2013 Syrah, Rockwood Ranch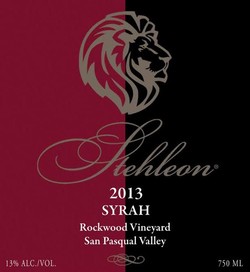 Vineyard Notes: Rancho Guejito's Rockwood Vineyard was established in 2011 at the mouth of Rockwood Canyon in the San Pasqual Valley of San Diego County, California. Located 23 miles from the Pacific Ocean the vineyard is at an elevation of 430 feet on Visalia sandy loam soil. Vines are trellised on a modified sprawl system with 8' x 6' spacing. This vineyard gets warm days but cool air drains off the main ranch above and brings temperatures down at night.
Vintage Notes: Harvested and destemmed whole berry. 5 day cold soak before the start of fermentation. Aged in neutral vessel on lees for 24 months, racked and aged 18 months before bottling.
Tasting Notes: Bright red cherries and purple Irises on the nose. On the palate; raspberries, forest floor, dried leaves, and earthy minerality.
This unoaked wine is structured yet extremely easy drinking. Enjoy this wine with a juicy lamb burger or on its own perhaps with a slight chill.
Product Reviews