2012 Sangiovese, Rappaport Vineyard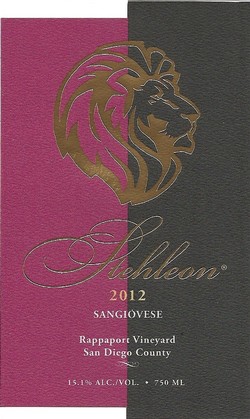 Vineyard Notes: Rappaport Vineyard is located in south western Rancho Santa Fe. Vines are trellised on a T-top sprawl system with 8' x 6' spacing. This vineyard gets warm days but cool air from nearby Del Mar lower vineyard temperatures at night.
Vintage Notes: The grapes were harvested on November 10th 2012 at day break and brought to the winery in Valley Center. The grapes were cluster sorted and destemmed whole berry into half ton bins. Fruit was cold soaked for 5 days, inoculated, and fermented for 14 days. Pressed directly into fine grain barrels (30% new French oak) wine was aged on gross lees for 11 months before first racking -- aged for a total of 36 months.
Tasting Notes: Festively red in color, this Sangiovese opens with wonderfully wild aromatics of red currants, sour cherries, blood orange zest, vanilla bean and bittersweet chocolate. On the palate the wine mirrors the notes of sour cherries, red currants, blood orange and bittersweet chocolate. There are also notes of just ripened strawberries and fresh thyme.
This wine is well balanced and has delightfully lip-smacking acidity and just the right amount of tannin grip. The finish is long and lingering… inviting one back for another sip!
Product Reviews
Kelley Horn
(May 14, 2020 at 8:38 PM)
We tasted this wine last weekend at a Virtual Wine and Cheese Tasting. It was truly wonderful and definitely enhanced the cheeses presented. Can't to buy more.